… And seeing only your positive qualities… So he has NO DOUBT you're the only one who can make him happy.
You can use it with a guy you just met, to stand out from all other women, as the ONLY choice for him.
You can use it with a guy you've just started dating, to erase any feelings of doubt he has about going 'all in' with you… So all he cares about is securing your love.
You can even use it with your long-term boyfriend or husband… To make him realize how lucky he is to have you… So he sees you as the center of his world… And he's willing to sacrifice ANYTHING for you and your relationship.
I first discovered this 'emotional tripwire' and the exact scripts which set it off…After one of the most humiliating experiences of my life:
I was working as a freelance journalist, and Liam was the CEO of a tech startup…
We started dating after I interviewed him for a feature on the year's biggest Tech turnarounds
He was good-looking and in great shape without being vain...
He was passionate about his work…
He made me laugh…
And the sex was… incredible.
Best of all, he wasn't afraid to show how into me he was… Which made me feel safe enough to open my heart in a way I hadn't in years…
That's why 6 months in, when he said he wanted to talk, I was totally blindsided:
"I think you're great - you're beautiful, you're kind, and smart, and fun…" he said as we walked…
"You're everything I've always wanted in a woman… But… something's missing… I just have this feeling… you're not the one for me"
His words hit me like a freight train, knocking the air out of my lungs, and leaving me disoriented and confused.
I pushed him to say WHAT exactly was missing… And begged him to tell me what I could do differently… But he couldn't give me an answer… And nothing I said or did would change his mind.
It was the 2nd worst day of my life. The worst came a few months later…
You see, at the end of our walk, I did something I'd promised myself I'd never do…I lost whatever dignity I had left by asking him if we could still be friends.
It was a mistake I would pay dearly for.
We continued to text and chat a couple of times a week… Send each other funny pictures or articles we found online… And check in with the odd 'good night' text.
I loved knowing he was still thinking of me… And that we could still laugh together… And I figured at some point he'd realize I was the perfect girl for him and we'd get back together.
Boy was I wrong.
It was a Monday afternoon when he first mentioned her name.
We were on the phone as he drove home from work… And he said he'd gone "shopping with Stephanie" that weekend. I felt a jolt of jealousy through my body when he said her name…
"Stephanie?" I asked trying to sound casual…
"I don't think you know her." he said.
"She's just a friend - she works with Tyler".
I tried not to make too much of it… But she kept popping up on his social media…
I was scrolling through Facebook and I saw her comment on his profile picture: "Love that face!"…
I reminded myself he'd said she was "just a friend".
I saw her sitting next to him in a group photo, and reminded myself she worked with his friend… So it was only natural she'd be hanging out with the group of them.
But when she posted a selfie with the two of them where
she was kissing him

on the cheek, it was hard not to panic…
I mean - they looked like a couple…
And though the image jarred me at first… I told myself SHE probably had a crush on HIM (a lot of girls did)…But that didn't mean HE felt the same way about HER.
That night I missed him so much I couldn't sleep…
I kept thinking about when we first met…
How good it felt when he looked at me and the sweet things he used to say to me.
Then - just as my heart ached so much for him I thought it might burst… He texted me:
"Hey - you up?" My heart leapt seeing his name on my phone. He was thinking about me too :)
My plan to wait before texting him back went out the window… And I wrote back right away: "Yep. Can't sleep… What's up?" I tried to sound casual.
"Nothing much." he responded…
Then: "I miss you. We should talk".
After a quick check in my phone's camera, I agreed to FaceTime with him.
When I answered, he was sitting up in bed with his shirt off… He looked tired but handsome…
His face had a few days of scruff on it like I liked… And I melted seeing him.
We started talking about old times… And I saw a sadness in his eyes. I felt connected to him in a way I hadn't in so long…
And all I wanted was to be with him at that moment… Just laying together cuddling and talking
like we used to

…
I wanted to bask in the glow of his complete attention… And to feel how much he adored me…
And it seemed like he felt the same way.
Finally, he said..
"Emma… you know I love you right?"
"Yes" I said, my heart opening a crack "I love you too" I felt a warm glow in my chest…
"You mean so much to me…" He went on, "And the last thing I want is to hurt you…"
"Ok…" I said…
"Anyway… Well… you're not stupid - you've probably figured out that I'm dating someone"
My stomach clenched and my throat got tight…
"It's that girl Stephanie… And… I wanted you to hear from me… That… we got engaged"
I felt like I'd been slapped hard across the face…
I forced a smile and said I was happy for him. He kept talking…
"It came from out of nowhere…"
"I know it's quick but I've never felt this sure of anything before"
"I hope you understand…"
But I wasn't really listening. I was stuck in my head, and knew if I stayed on the call he'd see me cry… So I made an excuse and ended the call…
Suddenly, I was completely alone...
My friends would all be asleep… And there was no way I'd be able to sleep now. So there was no escape from the images forcing themselves into my mind:
Of her laughing and touching his chest as they lay in bed together…
Of him kissing her passionately without a thought of me at all…
Of him standing at the altar with her… looking deep in her eyes and pledging his love for her.
It was like watching a movie of the life I'd dreamed of… But with
someone else

playing my part.

I kept thinking:

No matter how much he said he loves me…No matter how great he says I am…Despite all the things he likes about me…

He didn't CHOOSE me. He chose her.

Why?

He'd said he wanted someone smart, and funny and playful… And he'd told me I was all of those things…

Then what was I missing? And what could I have done differently… To make him feel as certain about me as he now was about her?

Every man I'd ever dated always had one foot out the door… Not a single one had been certain I was it for him.

And the reality I was forced to face… Was that something about ME made men unsure.

For some reason, the men I wanted, just didn't see me that way.

And I realized if I was going to break this cycle of rejection, I needed to figure out what I needed to do different…

To make a man feel absolutely sure I was the one for him.

I decided to get to the bottom of it. I'd write an article about what makes men choose certain women… So I could spend my time searching for answers without putting my career on hold.

The next day, I got online and set up interviews with some dating and relationship experts…

They talked about the importance of communication, and compromise, and about loving yourself first.

But when I asked them how some women make men so SURE they're the one… While others always leave men feeling hesitant to commit to them…

...None of them had any satisfying answers.
A few months in, I was ready to give up on the article when I got my first big
breakthrough

...

I was listening to the radio on my drive home from the dog park… And they were discussing the TV show, The Bachelor.

One of the experts weighing in was Clayton Max. He had a background in applied psychology… And had been a a professional dating and relationship coach for over 11 years…

He was breaking down how the winner beat out all the other women… And exactly what she'd done differently to stand out in his mind as the one he was willing to give up all other women for.

Clayton explained how she'd made him think about her even when he was with other women…

And how she didn't try to be his 'perfect girl'… Or convince him she was the best one for him…

But instead flipped his brain into what Clayton called 'infatuation mode', which made him blind to all her flaws… And made him feel like his life would be a living hell without her.
It was
completely different

from anything else I'd heard about making a man choose you.

And when I considered his background in psychology… (As well as his over-a-decade of experience helping men and women with their love lives)… I couldn't help thinking, if anybody had the answers I was looking for, it was him.

I found Clayton online and reached out to see if he'd let me interview him… And a week later we met up at a coffee shop near his office.

I'll never forget, it was a rainy Thursday afternoon… And after we'd been talking for an hour… Clayton told me about his latest project:

It started when 3 of his guy friends got engaged in one year.

After years of claiming they "didn't believe in marriage" or monogamy, suddenly, the same guys who claimed settling down "wasn't for them" didn't care about giving up their single lifestyles…

And couldn't wait to spend the rest of their lives with one woman.

The remarkable thing Clayton noticed, was that the women who'd made these guys so excited to commit didn't have all the qualities these guys SAID they were looking for…

And yet very shortly after meeting them these women were all they wanted…

And his friends were willing to do anything - including, in one case, moving across the country… To make it work.

Clayton was curious WHY this had happened…

And wanted to know what these women had done differently from all the other women who'd tried to get these guys to settle down to see if he could reverse engineer the process…

And help women who were struggling to find - and keep the love they wanted and deserved.

After interviewing the couples… And spending several months pouring through scientific research on the psychology of love, attraction, and attachment…

He finally came across a discovery which explained everything about why men choose the women they do…

And how some women are able to make men feel SO CERTAIN they're the one… While others always leave men feeling like something's missing… No matter how perfect they are for him 'on paper'.
He'd discovered a
'master switch'

in the male brain that focuses all a man's desire on one particular woman…
And makes him feel CERTAIN she's the one for him…..
You see, if a man doesn't feel ABSOLUTELY SURE you're 'it' for him, there's only one reason:
Though he usually won't admit it, he secretly suspects there might be someone better out there for him.
He may not know why… He just has this nagging feeling of "not quite right" with you…
And no matter how perfect you are for him "on paper"… No amount of reasoning with him… Or showing him how great you are…
...Will convince him you're enough for him.
However...
Once you flip this switch in him… It activates a powerful drive which focuses all his
sexual and romantic interest

onto you…

And makes him see you as the only one for him…

This drive is called The Infatuation Instinct… And It evolved to channel all a man's desire onto one particular woman.

According to a paper published in "Archives of Sexual Behavior" in 2014 by a team of researchers lead by Dr. Helen Fischer…

"This passion is involuntary and uncontrollable" And creates an "inability to feel romantic passion for more than one person at a time"…

So not only is he irresistibly drawn to you, but he's unable to even imagine having feelings for anyone else…

The infatuation instinct works by altering his brain chemistry…

Your smell…

The sound of your voice…

Even hearing your name…

Or just THINKING about you...

Releases intoxicating chemicals which literally WIRE you into his brain…

After that, his fear of missing out on other things disappears… Because he can't imagine anyone else making him feel the way you do.

Which is why men feel SO CERTAIN some women are the ones for them.

At the same time…

The Infatuation Instinct has several other powerful effects on a man's brain:

It creates a 'halo effect' around you… Which causes him to "overlook negative traits" and "focus… on positive qualities" So whatever 'reasons' he had to hold back… Don't matter anymore.

It causes him to think about you nearly constantly… As he replays the moments you shared together in his head over and over… In many cases "up to 85% of waking hours"… And most importantly…

It gives him "emotional dependency on the relationship… fear of rejection, and separation anxiety" Which makes him desperately afraid of losing you.

So he'll do ANYTHING…

He'll give up anything…

He'll rearrange his entire life…For you and your relationship.

As I thought back over my past, it became clear to me that whenever a guy said he 'wasn't ready for a relationship'…

Or that the timing wasn't right…

Or that it didn't 'make sense' for us to be together right now… Whatever rational reasons he had not to move forward with me were just a smokescreen.

Because if I'd triggered his Infatuation Instinct… None of those things would've mattered…
What was really going on, was that I'd failed to activate his
Infatuation Instinct

… Which left him feeling uncertain…. Even if I had all the qualities he wanted.

I asked Clayton how a girl like me could tap into a man's Infatuation Instinct, so I - and other women — could have more certainty in our relationships. And control over our romantic futures.

This is where things got really interesting…

He told me how most women try to hook a guy by trying to be his 'perfect girl'. They act as if guys have a sort of internal 'checklist' of what they want in a woman, and if she can just check every box on his list, she'll be his natural choice.

But giving a man all the things he thinks he wants, only works on the RATIONAL part of his brain.

It doesn't activate the powerful Infatuation Instinct which overrides all the rational 'reasons' he has not to commit to you and makes him feel like he can't live without you.

Instead… He'd discovered a series of 'psychological triggers' which fire up a man's Infatuation Instinct…

So NO ONE can make him feel the way you make him feel… And he sees you as his only choice.

Things like Curiosity… Which makes him unable to stop thinking about you… So you stick in his mind when you're not around him.

Or Investment… which makes him work harder and harder to EARN your attention and affection… Spiking his emotions… And making him fall deeper and deeper in love with you.

And most importantly…. Uncertainty:

According to Dean Delis, PhD, marriage counsellor, and author of The Passion Trap,
"The feeling of being in love is biochemically linked to the feeling of being out of control"
When a man thinks he has too much control over you or your relationship, there's no more excitement, no more challenge, and his infatuation instinct becomes stuck in the 'off' position.
But when a man feels a little out-of-control with you, it drives him crazy.
He feels excited and energized, and he can't stop thinking about making you his.
Which is why men start freaking out the moment they think they can't have you…
Now, most women have no idea how to create curiosity…How to get a man investing… And how to make a man feel out-of-control, without resorting to game-playing.
So… Clayton developed a series of scripts for each infatuation trigger, including:
Curiosity scripts which make a man feel a compulsive urge to know more… til he can't stop thinking about you
Investment scripts which bait him into working harder and harder for you
And Uncertainty Scripts which make him feel out-of-control with you
When you use these scripts with a man, they automatically flip him into 'infatuation mode'… So he locks in on you… Every thought he has leads back to you…
And he can't help seeing you as the perfect woman for him.
You become his
favourite drug

, sending him into withdrawal when you're not around…

And making him feel like he can't live without you.

It was at this point I confessed something to Clayton: I told him about Liam and my exes…

How I'd been filled with self-doubt about my ability to get men to want me the way I wanted them…

And that my real reason for wanting to talk to him… Was to fix my own love life.

He gave me some simple infatuation scripts to use the next time I was around a guy I liked… To get him hooked on me, and make him absolutely certain I was the one for him.

I was skeptical - But I already had someone in mind. Which is how I found myself sitting across from Jack… Watching him become more and more withdrawn.

I was nervous to try something different… But with nothing to lose I used a curiosity script… And immediately a change came over him:

All of a sudden he was looking at me intently… He was leaning in… There was a twinkle in his eye…

And he was asking me questions like he really wanted to know me.

I used an investment script and I could see him start to work harder for my interest… He started talking about things we could do in the future together… And he seemed nervous… It was cute.

And then, just before we said goodnight, I dropped an Uncertainty Script on him… Just to throw him off balance and keep him guessing how I felt about him.

From that moment on, the man was obsessed…

He texted me 15 minutes after dropping me off:

"Hey - what are you doing next weekend?"

And then again the next morning: "Thanks for the great night last night! I had a lot of fun :)"

And when I didn't respond right away he sent a long message:
"Hey sorry if this comes off as stalkerish… I have a wedding to go to next weekend and was wondering if you'd be my date… Could be fun. No pressure!"
I couldn't believe how quickly and completely it worked.
Over the next 3 weeks, Clayton gave me more scripts I could use…
And he explained the psychology behind each of them… And how I could adapt them for different situations.
For the first time in my life, I felt in control with a man I liked…
Jack adored me… He told me daily not just how much he loved me…But WHAT exactly he loved about me.
He texted me throughout the day and always responded to my messages as soon as he could…
HE was the one who brought up the "so where is this going?" relationship talk… As he was clearly head-over-heels for me and eager to move things forward…
It felt so good to finally be in the driver's seat with a man I loved, and to be absolutely sure he was completely hooked on me.
And it wasn't just me:
I referred my friend Carol to Clayton, and she used a curiosity script to get a guy who worked in her building to finally ask for her number and take her out on a date.
One of Clayton's student's, Beth-Ann, used some investment scripts with her husband of 23 years, to put him back into COURTSHIP mode, where he became suddenly aware of how lucky he was to have her… And felt compelled to bring her flowers, plan dates for the two of them, and remind her daily how much she meant to him.
Another student used an Uncertainty Script to get her ex-boyfriend to start reaching out to her again after months of radio silence… To come over to her place… And beg for another chance with her.
It was a moment she'd dreamed about for months. And I couldn't be happier to see all these amazing women change their
romantic destinies
But just when things were going so well… Clayton and I had a bit of a fight…
My cousin AJ was going through a rough time with her boyfriend and desperately needed help. But when I asked Clayton if he'd jump on the phone with her he shot back a short message that he didn't have time.
At first I was a little angry. After all - my cousin was suffering and I knew he could help her. But when I called him to talk about it, I could hear it in his voice:
He was run-down… He was overworked and stressed… And he was headed towards total burnout.
The Infatuation Scripts had been working so well, Clayton couldn't keep up with all the women who needed his help.
I realized I'd been unfair to him… But I was still heartbroken about my cousin - and about all the women who needed Clayton's help.
I thought about how worthless I felt when man after man rejected me, and I had no idea why.
I thought about how each time it happened I got more and more discouraged…
And how close I'd come to giving up hope of ever finding love…
And I knew millions of women out there must still feel the way I used to.
So I came up with an idea:
I figured if I could help Clayton put his system into some sort of program, then he could help more women, and at the same time free up his time to take better care of himself.
As a writer, I could help him organize the material and get it out to the world…
He agreed, and we went back and forth for months… adding material and refining it.
Clayton was a perfectionist and it drove me a little crazy… But after 3 months we finally had a program that any woman could follow…
To trigger the infatuation instinct in any man… And get him hooked on you.
We called it:
Infatuation Scripts: Words to make him sure you're the one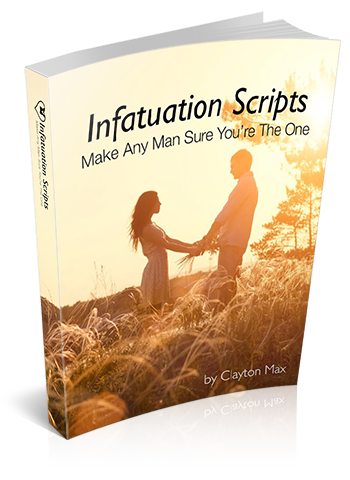 It's the only program specifically designed to trigger The Infatuation Instinct in any man you talk to…
So you can get him thinking about you non-stop… Erase all other women from his mind…
And focus all his romantic and sexual desire onto you stirring up such powerful emotions inside him… He feels like he can't live without you.
If you want the power to make a man 'lock in' on you, so you're the only woman he can imagine being with…
Even if he's always been a commitment-phobe…
Even if he's never been in a fully committed relationship before…
And even if he's stuck on another woman…
Then Infatuation Scripts was designed for you.
In it, you'll discover:
Independence Scripts: Which wake up a man's desire to pursue you by signalling you won't be 'won over' easily

Intrigue Scripts: Which get a man's attention and arouse his curiosity about you… so he can't stop thinking about you even if he wants to

Cliffhanger scripts: To use at the end of any conversation which leave him feeling 'not quite satisfied' and giving him the overwhelming feeling like he just HAS to see you again

Barrier Scripts: A lot of women think you need to 'play games' by pretending you're not that into a guy to make him want you… But as long as you have a 'barrier' to totally giving yourself to him, you can express as much desire as want without giving control of your relationship over to him.

(Knowing you're into him but he can't fully possess you creates feelings of "romantic tension" inside him which make him feel like the two of you are in the middle of a love story)

Curveball Scripts: Which make you seem deeply mysterious, intensifying his curiosity about you, even if he thought he had you "all figured out".

Shaping Scripts: Which train him to put more and more effort into winning you over… Progressively increasing those feelings of INVESTMENT in you so important for infatuation

Temptation Scripts: Which tempt a man to want to pursue you… while giving him hoops to jump through to make it challenging… Spiking his desire for you beyond the boiling point

"Interested-but-not-sold" Scripts: Which lets a man know he has a chance with you - but that he has to WORK to win you over. Most men are so unaccustomed to women with this attitude, this script alone sends them over the edge into full-on infatuation mode

Urgency Scripts: Which make him feel like if he doesn't do something IMMEDIATELY, he might lose you forever, giving him a desperate urge to lock you down NOW, while he still can
And many, many more…
Once you use these scripts with a man, you get instant feedback… Since you'll actually SEE him falling for you:
You'll see him sit up and become more attentive towards you…
He'll start dropping little hints about how much you mean to him…
He'll touch you more as he talks…
He'll steer conversations towards 'relationship talk' so he can get reassurance about how you feel…
And he'll start trying to prove his love for you in little ways - leaving you notes to let you know he's thinking about you…
Buying you flowers or little tokens of his affection…
Offering to you rub your feet after a long day…
Noticing and complimenting the little things about you that make him feel lucky to be with you…
And when you know he's hooked on you, YOU become more sure of yourself, and start to radiate confidence…
Which not only feels amazing… But makes you even more irresistible to him.
Now, you've stuck with me this far, so you're obviously curious about the Infatuation Scripts…
And you probably have a few questions: Like how you get access and how much the program costs.
So let me answer that for you right now:
When we put together Infatuation Scripts, Clayton and I had a lot of discussions about how much to charge…
Clayton's current rate for coaching is $300 an hour…
And to get this information directly from him would take at least 4 sessions and cost you a minimum of $1200… That's IF he had room in his calendar to take you on.
Now, I think you'll agree that for the ability to get any man hooked on you, and make him see you as the only woman for him, $1200 is well worth it…
Which is why I suggested to Clayton that we charge $999 to be fair to all the women who've paid at least $1200 to learn this exact same system.
After all… what's in the program is exactly what he teaches his private clients.
But Clayton wasn't having it. He told me he didn't spend the past 3 months turning these teachings into an online program just for women who could afford to drop $1000 without thinking about it.
He wanted to help as many women as possible
escape the pain of continual rejection

… So they could get their confidence back…

...And be in a secure, loving partnership with a great guy.

But of course he had to charge something or he'd be back on the path to burn-out with a full coaching schedule…

So we asked his friends, my friends, and his past clients what they thought would be fair…

And everyone agreed that cutting that price by more than half and charging $399 was more than reasonable.

And though Clayton agreed it was a fair price, he really wanted to spread the word about The Infatuation Scripts, and get it into as many hands as possible…

So against my advice, he decided to do a marketing test…Where we'd reduce the price as a reward to early adopters. And to help the program go VIRAL.

This page is part of that test…

Which is why, if you're on this page right now…

You have the chance to get Infatuation Scripts… For activating any man's infatuation instinct… So you're the only one he can imagine being with… Without him having a CLUE what you're up to… For more than 80% off.
That means that
right now only

… You can get Infatuation Scripts, For a one-time payment of just

$49.95
With no recurring charges or hidden fees.
Simply click the button below and fill out the order form to get started and you'll be taken right to a secure page where you'll get access to all the materials…
You'll also get an email with a link to the program and details on how to contact us should you need to for any reason.
Click the button now for this limited-time offer.

Now, because Clayton wanted to make getting this program a total no-brainer for you, he talked to some of the best dating and relationship experts in the world, and convinced them to contribute some exclusive bonuses.
They're yours, free of charge, for those who purchase as part of this marketing test…
Bonus #1:

The Commitment Calculator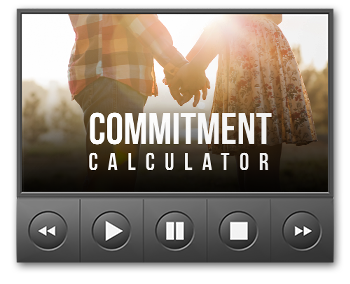 In it, you'll hear from Carlos Cavallo - a guy who spent his entire life CERTAIN marriage wasn't for him, until he met a woman who turned all of that around.
You'll hear about the 'myth of commitment-phobia" and why 99% of men WANT a committed relationship… Even when they appear to be actively avoiding one.
He also goes into The 7 signals that trigger CAUTION in a man and make him go from "interested" to "freaked out" instantly…
If you get nothing else from this program, this will help you avoid the traps so many women fall into that keep them from getting the love they want.
Bonus #2:

"Make Any Man Yours For Life"
In it, author Amy North condenses her nearly a decade of experience helping women build happy, loving relationships with the man of their dreams…
And shows you how to cheat-proof your relationship so you never have to worry about him leaving you or being unfaithful.
She goes through the 7 Reasons why men cheat…
The 12 signs your man is cheating…
And the 9 Steps to prevent cheating in your relationship.
Each of these programs is worth $29.95. That's a
value of $59.90 in bonuses

alone…

...Just for taking advantage of this one-time offer of Infatuation Scripts.

And, to make it as easy as possible for you to try this program out…

We're offering a 60-day, unconditional, no-questions-asked, 100% Money Back Guarantee.



CERTIFICATE OF GUARANTEE
60 day 100% Money Back Guarantee
Test drive Infatuation Scripts for a full 60 days.
If for any reason whatsoever you are not happy with the program, you can get a full refund.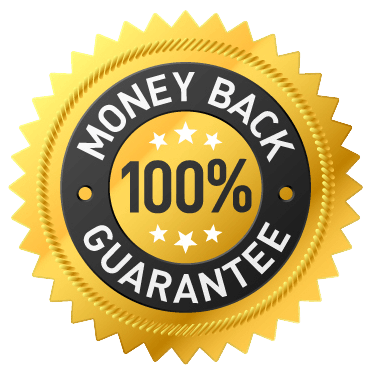 No questions asked!


Emma
Owner of Infactuation Scripts
That means you can get access to the program, go through all the materials, download the bonuses, and try everything out…
And if the man you use it on isn't completely hooked on you… Or you're not satisfied with the program for any reason whatsoever, simply let us know within 60 Days, and we'll immediately refund 100% of your purchase. No questions asked.
We're offering this guarantee because we know how hard it can be to decide if a program is right for you… And the best way for us to help you do that, is to let you try it out for yourself before you decide…
So you can see for yourself the powerful effects these techniques have over a man's emotions…
All you have to do is click the button below and fill out the order form… And in less than a minute, you'll have full access to all the Infatuation Scripts, the two bonuses, and a few more surprise goodies I haven't even told you about yet…

Now if you're thinking of waiting to get this program, that's totally up to you… But I should
warn you

:

Clayton is currently in negotiations with a TV production company for a show where he helps women get the guys they want…

This production company was uncomfortable having this program available to the public… Since they want to control the merchandising around the show.

They agreed that we could keep it up for now…

But they reserved the right to pull it down at any time when the show goes ahead.

So although I can't say exactly when, this page could disappear at any moment, and you'll have no way to get access to the program…

Which is why I suggest you get it now while you can.

After all, you can return it later if you change your mind…

Just click the button below to get instant access to the program at the special introductory price.
YES! I want
instant access

to Infactuation Scripts, along with the two AMAZING bonuses on offer today!

I understand that if I purchase today, I will be receiving the limited time only, special offer and pay only $49.95!

That's a massive 80% discount!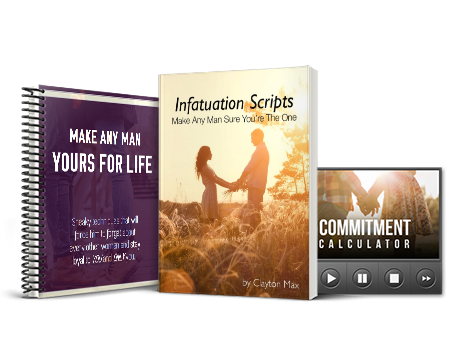 I also understand that I will be receiving a 60 day money back guarantee, meaning there is zero risk to me whatsoever!
Special Introductory price: $49.95

So now you have a decision to make.
The way I see it, you have three options:
Option 1: You could try to forget you ever saw this page, and go back to your old way of doing things.
If you're perfectly happy with the way the men you want respond to you… Then this program probably isn't for you anyway…
Option 2: You could take what you learned today and try to figure out the rest on your own
If you're highly motivated and willing to make a lot of mistakes… And you're ok with missing out on some amazing men along the way…
You COULD try the trial-and-error approach. But keep in mind, even with his years of experience and background in psychology… It took Clayton several months and thousands of dollars to figure this all out…
Option 3:

You could save yourself time, save yourself money, and save yourself

years of heartache,

by letting us help you.

There's no reason you should continue to suffer rejection when the love you want could so easily be yours.

We've already done the work for you and all you have to do is follow the simple step-by-step instructions laid out for you… And the man you want will be eating out of the palm of your hand.

So if you're ready to take advantage of Clayton's years of study and experience, with a clear, step-by-step guide that tells you exactly what to say to cut off a man's desire for other women by activating his infatuation instinct…

So he sees you as the ONLY woman who can make him happy… And literally can't stop thinking about you…

Simply click the button below..

Fill out the order form on the next page, and...
In less than a minute, you'll have complete access to Infatuation Scripts, and all the
exclusive bonuses

, for less than the cost of a night out.
I've brought you this far… I've lead you to the door and presented you with the opportunity for a change in your love life.
And now you have to decide whether or not to walk through it.
It's your life and your decision to make.
And if you choose to step up and make this change in your life, we'll be there every step of the way to support you…
Because I know from personal experience how devastating it is to be passed over time and again by the men I want…
How awful it feels to know that you're 'not enough' for a man….
And how out of control you feel when you can't make a guy feel about you the way you do about him, no matter how hard you try.
And… I know how wonderful life can be when a man you love looks at you like you're the only woman in the world…
When he's eager to prove his love and devotion for you, and can't wait to show you how crazy he is about you every single day.
The choice is yours.
Simply click on the button below…

And in less than a minute, you'll have everything you need to say and do to give a man overwhelming feelings of love and devotion for you.
As a thank you for reading this page… We have one more bonus program for you…
It's a reward for those of you who are ready to take action right now.
Bonus #3:

Why Men Shut Women Out - By Slade Shaw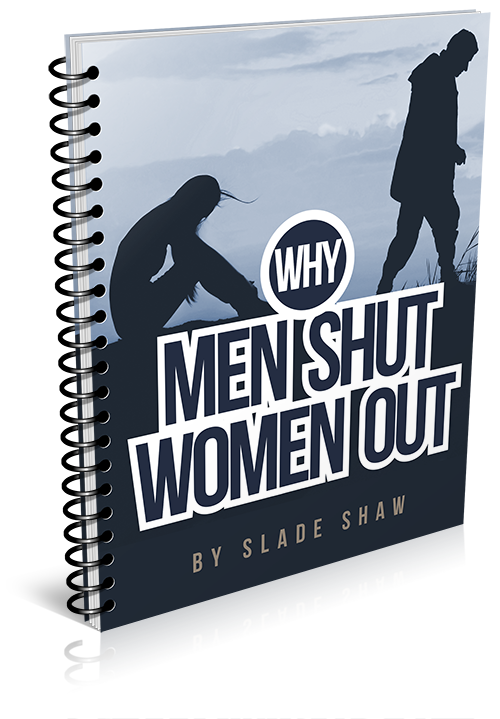 The relationship coach and bestselling author asked a group of women to come up with the most probing, hard-hitting questions they had…
And sent them out in an anonymous survey to over 700 men…
He then condensed their answers into this fascinating and revealing mini-book which reveals EXACTLY why men shut women out.
Plus answers to many other questions like:
'Why do men cheat?'
'What are the top 5 traits that makes a man fall in love with a woman?'
And lots more…
It contains loads of exact quotes taken straight from the mouths of men.
No pulling punches, just the honest, black and white truth…
Giving you insight into the male mind, few women ever get access to which you can use to become the ONE woman he cherishes forever.
Ok let's total it up... You'll get:
Infatuation Scripts: Regular: $399
The Commitment Calculator: Regular: $29.95
Yours For Life: Regular: $29.95
And Why Men Shut Women Out: Regular $29.95
That's a total value of $488.85.
For more than

80% off

…At just

$49.95!
And with the 60-Day money back guarantee…There's absolutely no risk to you.
You can try it out now, and you have 60 days to make your final decision.
Get it now while you still can.

Remember: Nothing will change in your life until YOU decide to change.
Make the decision right now… just as hundreds of other women have, and watch as your new life unfolds…
A life where YOU are in the driver's seat with men...Because you know exactly what to say in any situation, to trigger the infatuation instinct.
So you can make a man so out-of-control with desire for you…
He's taking you by the hand, looking deep into your eyes…And telling you you mean the world to him.
Click the button below right now to get started!
YES! I want
instant access

to Infactuation Scripts, along with the three AMAZING bonuses on offer today!


I understand that if I purchase today, I will be receiving the limited time only, special offer and pay only $49.95!

That's a massive 80% discount!

I also understand that I will be receiving a 60 day money back guarantee, meaning there is zero risk to me whatsoever!
Special Introductory price:
$49.95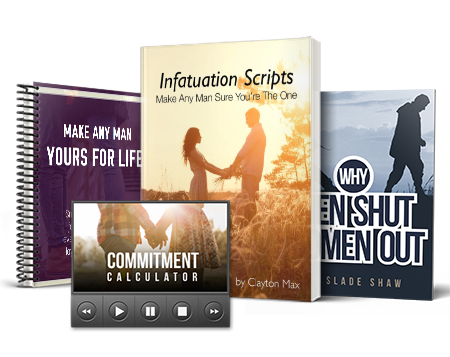 This program is delivered by video, audio and e-book formats so you can consume it in your preferred medium on any of your devices. Your order is backed by my 60-Day, No-Questions-Asked, 100% Satisfaction Guarantee. If you are not 100% satisfied with your purchase, simply contact support@infatuationscripts.com within 60 days for a full refund.
ClickBank is the retailer of products on this site. CLICKBANK® is a registered trademark of Click Sales, Inc., a Delaware corporation located at 917 S. Lusk Street, Suite 200, Boise Idaho, 83706, USA and used by permission. ClickBank's role as retailer does not constitute an endorsement, approval or review of these products or any claim, statement or opinion used in promotion of these products.